On Wednesday evening, July 22nd 2015 my wife, Joan and I had the pleasure of spending an evening in the Nimes Arena (built in the year 70 CE) where the Festival of Nimes presented a triple bill (Ayo, Maxime La Forrestier, and Joan Baez).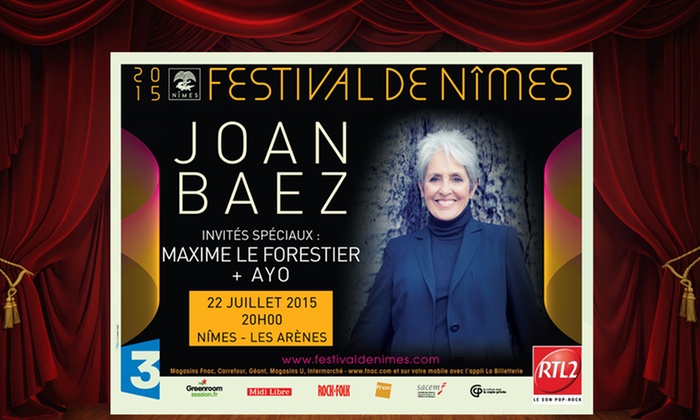 It was a great evening. Joan did not disappoint. She has the same voice and presence she had when at age 22 she sang "We Shall Overcome" at the 1963 March on Washington where the Reverend Dr. Martin Luther King delivered his "I Have a Dream" speech. She excelled with a rendition of "Diamonds and Rust" (her remembrance of Bob Dylan). She also sang "Don't Think Twice It's Alright" with Maxime La Forrestier. This song was Bob Dylan's thoughts about the end of their emotional relationship in 1965 or so. She did a nice performance of Kris Kristofferson's "Me and Bobby McGee." This was written for Janis Joplin but Joan made it her own. I particularly loved her performance of "I Dreamed I Saw Joe Hill Last Night." She reminded the audience she sang this at Woodstock in August, 1969. It is a wonderful song about the power and promise the union movement once had. Her son, Gabriel Harris played percussion and did a wonderful solo on Conga Drums that had the audience fully part of his rhythmic pounding. It was a great night.
However, the biggest surprise occurred on the way home around 12:30 AM on the A54 Autoroute between Nimes and Arles. A powerful cloud burst producing torrential rain caused scores of frogs to somehow commit suicide by trying to hop over the Autoroute.
It was weird to drive your car over a number of toads who seemed to be a recreation of one of the plagues inflicted on the Pharoah's ancient Egypt.
A wonderful and crazy night in Provence where excitement and beauty are abundant everywhere.
Charlie Jarowski